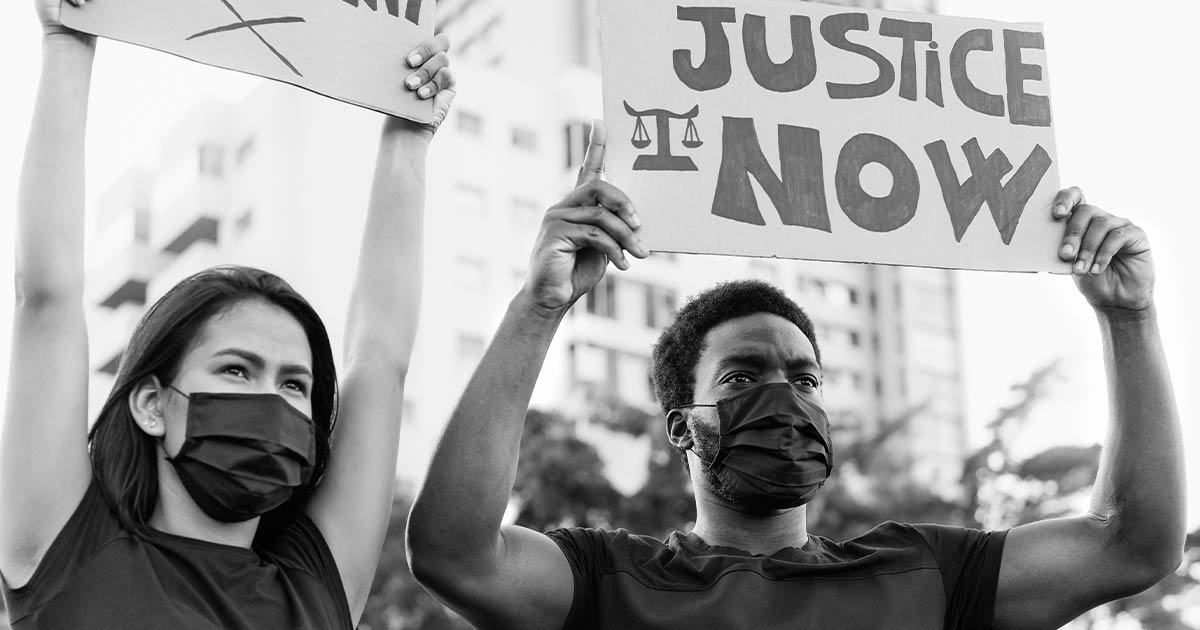 Earlier in the week, Halifax bank in the UK decided that social justice issues and taking a stand on the pronouns people use to describe themselves was more important than deposits.
In one of the biggest PR disasters in bank marketing, Halifax bank saw droves of customers closing their accounts after their social media team told customers to leave the bank if they didn't like their new pronoun badges for staff.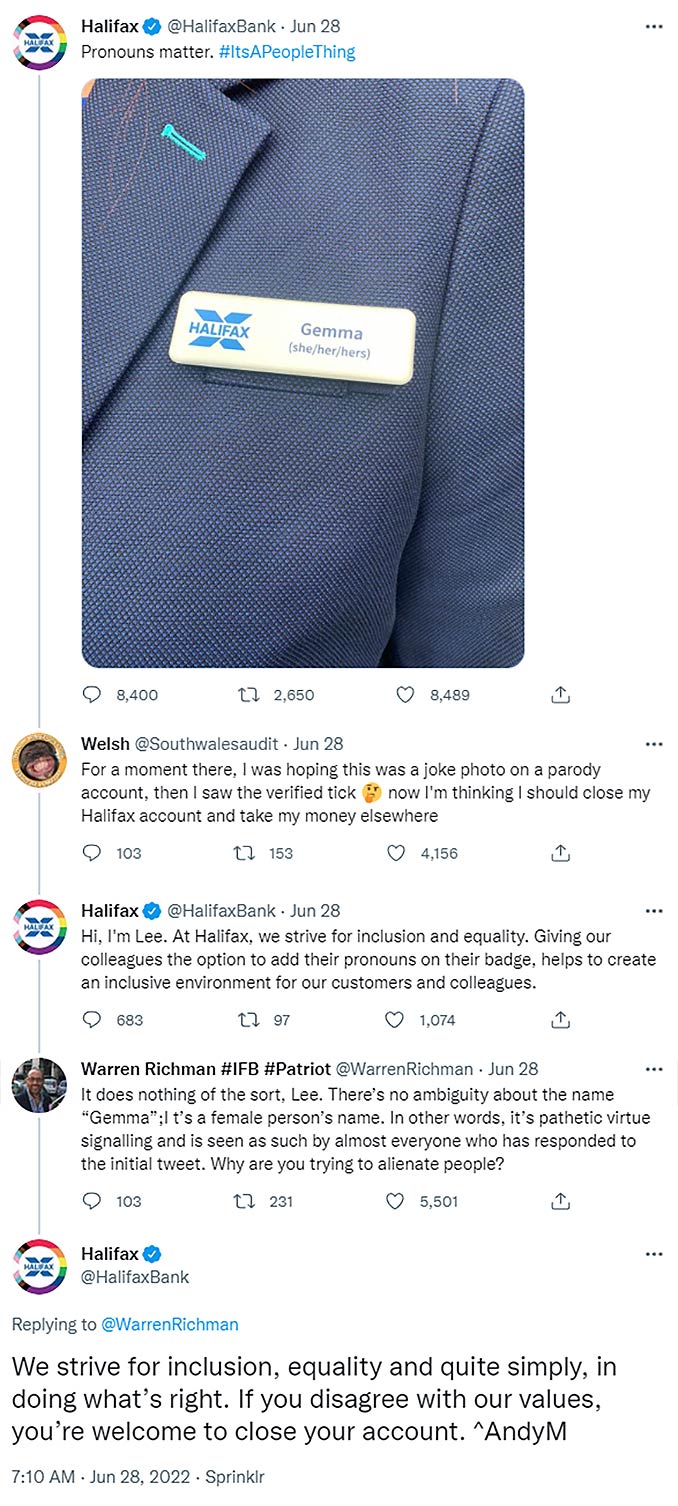 The fallout started almost immediately after Halifax tweeted to its 118,000 followers on Tuesday that it would allow staff to display their pronouns on their name badges in a post that read 'pronouns matter.' It showed a photo of a female staff member's name badge, which featured 'she/her/hers' in brackets under the name Gemma, and said the policy was to help avoid 'accidental misgendering.'
Customers were not happy!
One customer replied: 'There's no ambiguity about the name "Gemma." It's a female person's name. In other words, it's pathetic virtue signaling and is seen as such by almost everyone who has responded to the initial tweet. Why are you trying to alienate people?'
Within 20 minutes, Halifax doubled down on their social justice marketing campaign when a member of the Halifax social media team, calling himself Andy M, replied: 'If you disagree with our values, you're welcome to close your account.
And customers are doing just that. As of this morning, over 10,000 tweets protesting the bank have popped up on Twitter, with hundreds of Halifax customers saying they closed their accounts, transferred their mortgages, and cut up their credit cards. According to our sources, the bank has already lost millions in deposits.
One user said: 'I just closed my Halifax account after 19 years with them. They can stick their pronouns up their/his/her a**e'.
Another said: 'My wife and I have followed this advice, partly due to Halifax's current virtue signaling but mostly the eagerness of AndyM to lose customers. Mortgage is being moved, credit cards have been canceled, deposit account closed. Had been with you since the 90s. Nice work.'
One customer told the DailyMail: 'My entire family has now transferred their accounts to Nationwide, cards, etc. Loss to Halifax is more than 450K in investment accounts and savings'. Another said: 'I closed my credit card account today, after fifteen years of being a customer, while one exiting customer who is now changing ISAs said: 'If they politely said try to use the pronouns on the badge – I would have done my best,' but left because he perceived their threat meant 'there would be hell to pay if I got it wrong.
Last night customer Caroline Ffiske, a former Conservative councilor, said: 'It is incredibly rude for Halifax to say to customers if you don't like it go away. It's astonishing to have a bank behaving like a trans activist.'
Former Doctor Who scriptwriter Gareth Roberts, a Halifax customer since 1988, told the bank: 'I'm a homosexual man. I'm appalled by your adoption of this homophobic, woman-hating claptrap, and by your attitude to customers making perfectly reasonable objections to it.' Company director Anders Jersby ended his Halifax car insurance policy and said he would never deal with Halifax again thanks to 'their antics with pronouns.'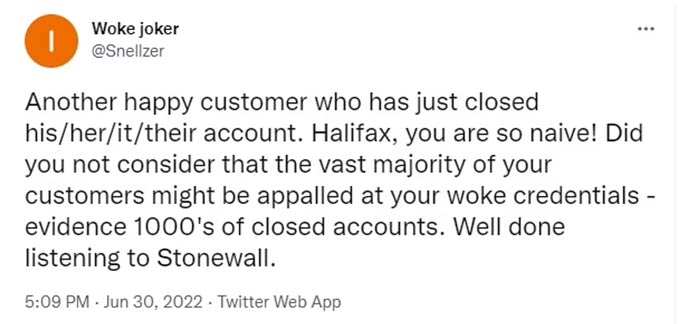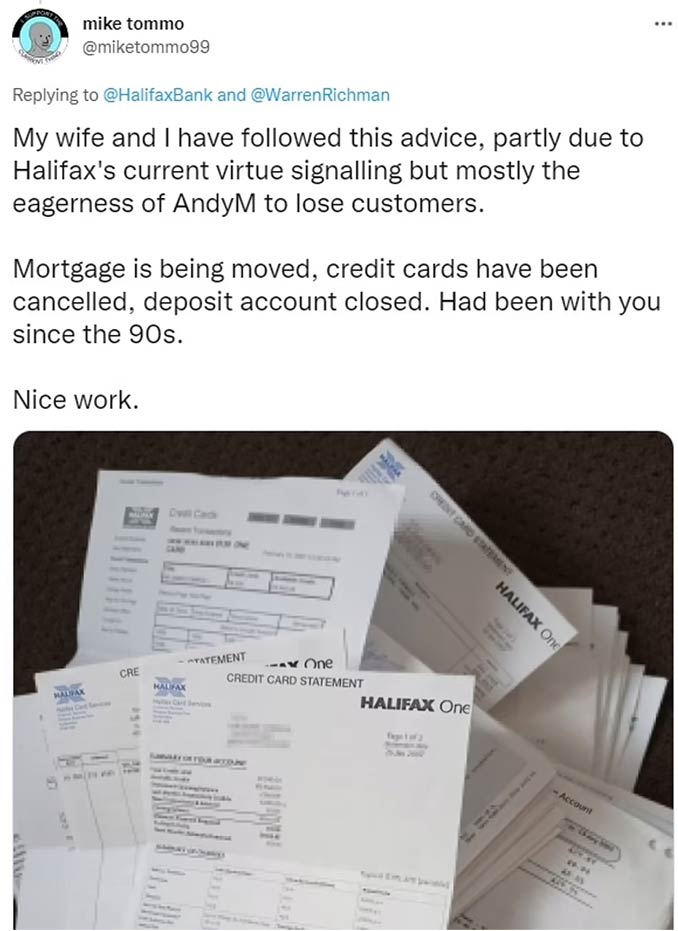 Biggest PR blunders in recent history.
Branding expert Martin Townsend said Halifax's policy is a 'Ratner moment' and an 'astonishing' mistake that will be considered one of the biggest PR blunders in recent history.
He told LBC: 'It's a Ratner moment, I would say. It's astonishing that they do something to make themselves look right on and virtue signaling – and they end up looking like the most old-fashioned bullies, telling them: "If you don't like it, you're welcome to leave."
'It's extraordinary. Who treats their customers like that? I've never heard of a company inviting their customers to go. It's so typical of debate these days: "If you don't like it, off you go." How is that inclusive? There are big questions about Halifax today and who came up with it.
On its website, Halifax say any customers they deem to be 'transphobic' could have their accounts closed.
Underneath a page titled 'what we stand for', they say: 'We stand against discrimination and inappropriate behaviour in all forms, whether racist, sexist, homophobic, transphobic or ableist, regardless of whether this happens in our branches, offices, over the phone or online on our social media channels.
Other Banks Jumping onboard the Social Justice Marketing Train?
Shockingly, even after Halifax customers started leaving in mass, several other large banks decided to jump on board with the failed campaign and their support behind the bank.
Natwest, Nationwide, and HSBC all have optional pronoun policies for badges. HSBC even shared the Halifax post, tweeting its 101,000 followers: 'We stand with and support any bank or organization that joins us in taking this positive step forward for equality and inclusion. It's vital that everyone can be themselves in the workplace.
We stand with and support any bank or organisation that joins us in taking this positive step forward for equality and inclusion. It's vital that everyone can be themselves in the workplace. ❤️ https://t.co/TuoFpqN692

— HSBC UK (@HSBC_UK) June 29, 2022
Not just them. @HSBC_UK do it too Couldn't get yearly tax certificates and all branches now shut. Website archaic shambles. No answer on phones either. But number 1 listed on drop down menu was the option to change my gender and pronouns! Who makes these decisions???

— Meise (@1010surgery) July 1, 2022