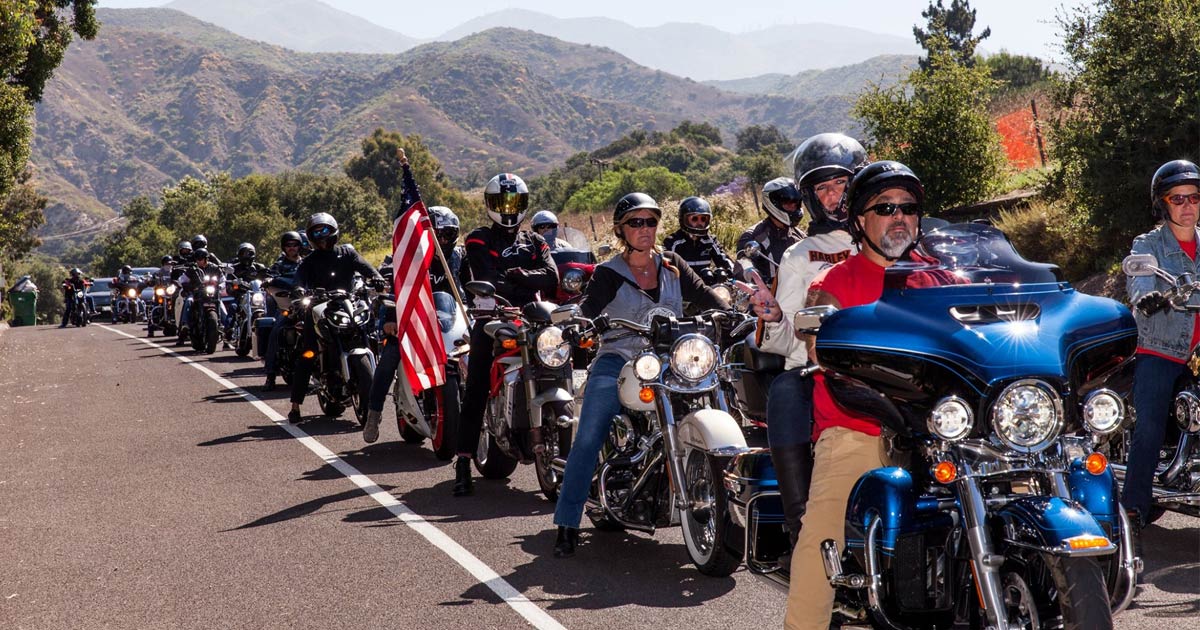 Nuvision Credit Union has turned community marketing on its head by not only creating a community of engaged members but by going above and beyond what any other bank or credit union is doing with their community outreach. They're not just throwing around buzzwords; they're actually making a real difference and truly engaging with members of the community in a real and relatable way.
One example of this can be seen in a campaign they ran on the Fourth of July. They did something not many other banks, credit unions, or corporations would have the nerve to do – they hosted a motorcycle ride for military, veterans, and first responders, followed by a BBQ and live concert at a biker bar. Yeah, a biker bar!
While the rest of the corporate world either pays lip service to supporting the military or sadly just downright disrespects and ignores the people who help ensure our freedoms, Nuvision Credit Union not only honored them, but they did so on their turf. They didn't throw some corporate version of a "motorcycle ride"; they made sure they gave people the ride they wanted!
They called the event the Nuvision Freedom Ride; it consisted of a two-hour ride through some of the most beautiful canyons in California, followed by a live country music concert with Marine-veteran Gethen Jenkins at Cook's Corner Bar in Trabuco Canyon. To make the day even more memorable for these heroes who give so much, Nuvision flew in Marine Veteran and Medal of Honor Recipient Dakota Meyer to speak with and ride with the military bikers at the event.
Tom Sweet, VP of Marketing at Nuvision Credit Union, who methodically mapped out every part of the rides route, making sure every part of the ride was memorable, said, "The tremendous sacrifices these men and women make are immeasurable, and this was our opportunity to thank them for their service and bravery. We wanted to create an event that was for them, and we wanted to do it somewhere they felt comfortable."
What a concept! A company that doesn't just take out billboards claiming to support the military, first responders, or their local community, but instead takes the time to put together an event that honors them without asking for anything in return. But the best part was they didn't throw some hokey credit union event; they created a real live motorcycle ride that even the most veteran riders at the event said was one of the top rides they've ever ridden.
Robert Richardson, CEO of Richardson Marketing – the digital marketing agency for Nuvision – said, "It's always rewarding when marketing can truly make a difference in people's lives. To see the faces of these heroes when they got to ride with and hang out with one of their own heroes, Dakota Meyer, was truly something special to see. But my favorite part of the day was watching 300+ motorcycles pull into the event after the two-hour ride; it was really something to see."
Tom Sweet, who came up with the idea to fly in Dakota Meyer said, "this was our chance to really give something back to these heroes who give so much." Earlier in the year, Sweet sponsored another Nuvison marketing initiative where they gave away almost 13,000 gallons in gas to local military and veterans, but he says that being able to spend the day with one of their own heroes "really meant the world to these guys." You had some of the toughest people in the world getting choked up and emotional that a company would care enough to bring in someone who means so much to their community.
Still, wondering what community engagement means?
This is how you engage with your community; you don't worry about trivial things like Facebook likes and followers, and you don't talk about vague marketing terms like "customer conversations." True engagement means acting like real people, having fun, and creating experiences that people will remember for years to come.
Think about it; Nuvision could have paid tens of thousands of dollars to have their name as a featured sponsor at some random Fourth of July event that day. Nobody would have cared, nobody would have remembered their logo in some random program, and nobody's life would have been changed one way or the other. But how many of the people who spent their entire Fourth of July with Nuvison are going to remember that day and that event for years to come? How many people who saw 350 bikers riding throughout Southern California with the Nuvision safety vehicle are going to remember that awesome image?
Community marketing is so much more than random numbers and vague social media metrics; in fact, without a story, those numbers mean very little. They may look good on paper this month, but they do very little to show you where people's hearts and minds really are.