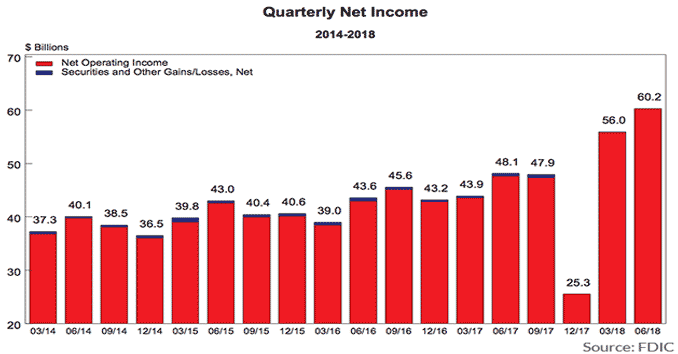 According to numbers released on Thursday, Bank profits jumped by 25% in the second quarter, mostly because of the lower rates due to tax cuts.
The 5,542 FDIC-insured commercial banks and savings institutions reported net income of $60.2billionduringthe three months ended June 30, an increase of $12.1 billion (25.1 percent) from a year earlier.
Bank Performace Numbers:
Only 3.8percent of institutions were unprofitable during the quarter, down from 4.3 percent in second quarter 2017.
Loan Balances Expand 4.2 Percent From Second Quarter 2017
Net interest income totaled $134.1billion, an increase of$10.7 billion (8.7 percent) from 12 monthsearlierandthe largest annual dollar increase ever reported by the industry.
The profit rise from banks including Bank of America, Citi and JPMorgan Chase would still have been 11.7% even if the effective tax rate were the same, the FDIC said.
Loan-loss provisions as a percentage of net operating revenue fell to 5.8%, the lowest level since third quarter 2015.
Noninterest income on items like service charges and transaction fees grew just 2%, while noninterest expenses grew 4.6% amid rising salaries.
Declared dividends totaled $37.8 billion, an increase of $9.5 billion, or 33.4%.